I've written a couple of times before about Favela Painting, an amazing project that my friends Jeroen & Dre are doing in Brazil.
They've spent most of the last few years making movies, music videos, and murals in Vila Cruzeiro, a slum shantytown favela community in Rio. The neighborhood became world infamous in 2002 when a journalist named Tim Lopes who'd been working undercover investigating a local drug gang was viciously beaten and burned in a roadside ditch. The incident caused a lot of employers to pull out of Vila Cruzeiro and the area still suffers from a reputation as an ultra-violent, almost uninhabitable place.
The Favela Painting project was created partly to counteract this image and raise awareness of the people who quietly endure behind the haze of shock stories and homicide stats. It launched in 2006 with 'The boy with the kite', a mural that Jeroen and Dre created together with local kids on the side of a building that eventually became the neighorhood's first art gallery. It generated a lot of positive press for the area. Here's one piece from The Guardian.
And here's a short clip about the mural with interviews with Vito and Mauri, two of the guys who helped make it.


On the strength of that, last year Jeroen & Dre started working on a much more ambitious painting – a 2000M² monster depicting a carp-filled river, rendered in the style of Japanese tattoos and woodblock prints. The work is ongoing, but here are some of the latest pics…
They've also been putting videos of the process up on youtube, including some awful ones from when they need the shut down and run for cover when gunfights break out.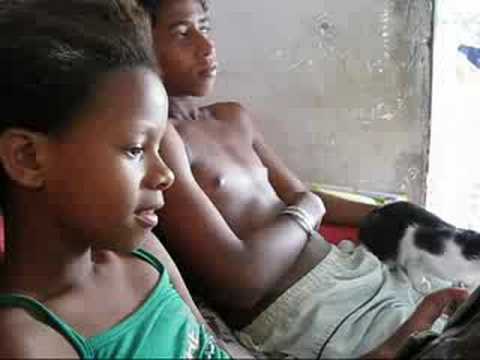 This is a great project, one that deserves support. You can read a lot more about it on their website – www.favelapainting.com . There's also an option for giving donations, which I know they'd appreciate.
BROWSE / IN

everything is everything very friend